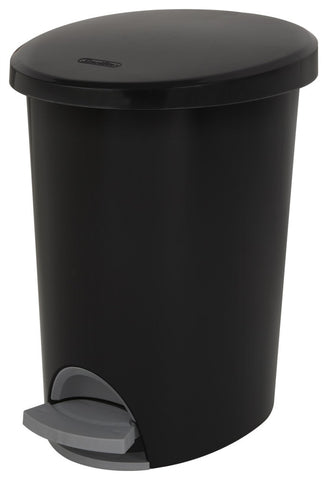 Sterilite Pedal Bin Black- 9.8L
You don't have to lift a finger to use this hygenic Pedal Bin!
The beauty this Sterilite bin makes you forget that, on the inside, it's full of rubbish.
Its gorgeous white exterior shines in the sunlight. The lid doesn't clang back down when you release the pedal. And – most importantly – your rubbish stays out of sight, out of mind…and out of smell!
Sterilite Pedal Bin Black 9.8L Features;
Slim, oval design - ideal for use in narrow spaces within the bathroom, bedroom or home office.
The removable liner includes a bag holding feature that helps keep a standard plastic shopping bag or liner in place - how easy is that!
Convenient, step-on access for hands-free opening
Made in USA
Made from solid plastic that won't rust, errode or break down - your bin will keep its good looks for years.
Easy clean - simply wipe with a damp cloth
Dimensions - 29.2 cm L x 48.9 cm W x 34 cm H
Also available in White.
Related products