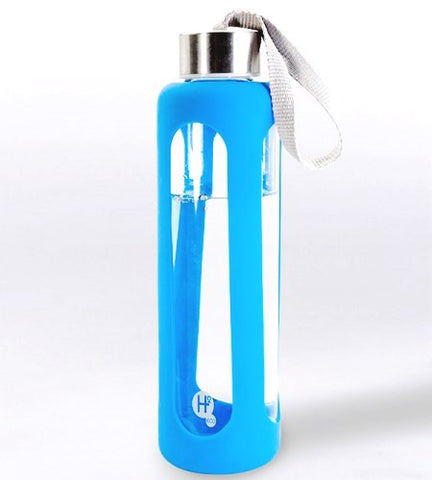 H2 Eco Glass Drink Bottle 500ml - Blue
Sorry, this product is sold out!
These glass bottles hold plenty of liquid and come in a silicone sleeve which will protect the bottle from bumps and light falls.
The design is funky and colourful, with easy-grip textures, with a strong carrying handle on top. The cap also includes an in-built seal, so you don't have to worry about it leaking through your bag. The whole thing is trendy, practical, unique, and feels good in your hand. 
Fill with water, juice, fruit infusions for stylish looking refreshment on the go.

It's pretty deluxe, especially where drink bottles are concerned.

H2 Eco Glass Drink Bottle 500ml - Blue features:
Bottle made from glass.
Sleeve made from silicone.
100% non-toxic – bisphenol A, phthalate, PVC and polycarbonate-free. Won't leave a chemical or metal taste to your liquid
Silicone sleeve protects bottle from falls and bumps
Bottle is dishwasher safe
Related products