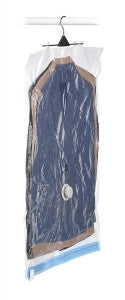 Whitmor Hanging Vacuum Sealed Space Bag
You won't believe how much storage space these will save in your wardrobe!
Whitmor is known for bringing organisation home with stylish, convenient storage products.
Whitmor vacuum bags are easy and simple to use, and can be used over and over again. Because there's no air, there are no insects, dust, mildew, moisture, musty odors or discoloration.
Simply pack the vacuum bag with clean, dry garments, zip shut and remove the air from the bag using a standard household vacuum cleaner (not included) and hang. 
Whitmor Hanging Vacuum Sealed Space Bag Features;
Holds up to ten garments - great for bulky coats, jackets, suits etc!
Vacuumed bag reduces in volume by up to 75%
Easily access stored items through the zip-seal closure
Reusable watertight and airtight
Clear nylon bag with high density resin
Provides protection against odor, mildew, moths etc
Colour; Clear
Dimensions: 56 cm wide x 92 cm high
Related products