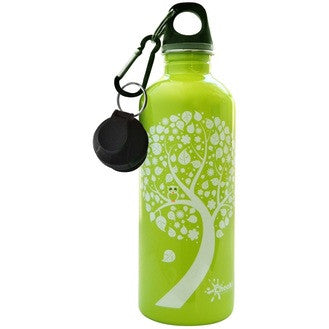 Cheeki Stainless Steel Drink Bottle - Green Owl
Sorry, this product is sold out!
Made from unbreakable stainless steel, Cheeki bottles are super funky, eco friendly & BPA free.
Cheeki products are manufactured from Premium Food Grade stainless steel with no inside lining, non-toxic inks and are BPA-Free. Refill and reuse your Cheeki product and you will never need to use a disposable cup, water bottle or food container ever again!
These bottles are made from pure grade 304 (18/8) stainless steel, and contain no linings and will not leach chemicals - so you can drink knowing you're in safe hands.
Cheeki Stainless Steel Drink Bottle - Green Owl Features;
Bottle comes with two lids, fliptop sports lid and standard carabiner lid
Made from Premium Grade 304 (18/8) Stainless Steel
BPA free plastic lid
No inside lining
Strong & durable
100% recyclable
For use with cool liquids only
Colour; Green
Dimensions; 500ml  - 21cm high x 6cm round
Hand wash recommended.
Related products